Chainge Group is please to announce that we sponsor and participate in the 24th edition of the World Sterilisation Congress in Brussels! The event will take place from 18 – 21 October. Make sure you step by our booth for information and advice.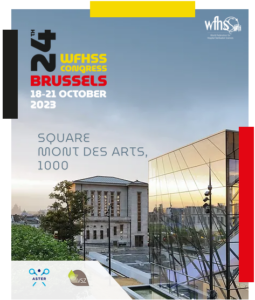 LVO Landelijke vereniging van operatieassistenten // National association of OR nurses
Chainge group participated at the Klimaat OK(É) congress in Hilversum, The Netherlands on March 9 and 10.
The congress' leading topic was sustainability, in particular focused on the OR and green initiatives to reduce waste. Important arguments the speakers brought to the visitor's attention were: How green and sustainable is the OR? What has changed due to the Covid pandemic? How are the labor circumstances in the OR? The global climate crisis is also a healthcare crisis and affects all of us.
Leading healthcare professionals talked about the innovations in their field. They also shared their vision of the green OR. All in all, it's been a very inspiring event with great interest in reusable technical textiles!
As Chainge we look back at a successful congress where we opened the eyes of many OR nurses, assistants and surgeons whom were not aware of the innovative and green reusable draping system. Especially surgical gowns drew the attention of many visitors as they look and feel comfortable.
The most frequent asked questions in a nutshell:
1. How do we implement this reusable system in our hospital?
2. Are there local laundries whom provide the full service?
3. Where are reusable surgical packs sterilized?
4. Who can educate our staff on the use of reusable technical textiles in the OR?
5. What's the business model of Chainge Group?
Especially the latter is very interesting as Chainge Group is an association of volunteer members who pay contribution to create more awareness of the reusable system. It is in our common interest that hospitals and industrial laundries in Europe start to use reusable textiles in the OR to reduce the huge amount of waste created by single use drapes and gowns. Chainge is about facilitating local business and supporting the expansion of the green OR. There is a great deal of attention in hospitals to implement reusable systems in general, but often do they not know where and how to start. This requires dedicated marketing, communication and local presence.
Dear Colleagues,
We invite you to join a webinar organised in synergy  with the CHAINGE Organization and its Chair, Miguel Pablo, on debating the benefits of reusable medical textiles and showcasing the positive impact they can have in the circular economy. The webinar will take place on the 24 November from 15:00-16:30 (Central European Time).
The reuse of medical textiles is safe for both the medical practitioner and patients, and inherently more sustainable and circular than disposables. Nevertheless, their presence in the market despite their clear benefits is not yet sufficiently understood. We therefore invite you to come and attend this webinar where we will tackle this very important issue with several prominent guest speakers. Among the speakers, we will have:
Miguel Pablo, Chairman of the CHAINGE Group
Sven Schöppe, CEO at LEO System GmbH & Chair of CEN/TC 205, Convenor ISO/TC94/SC13/WG6
Roberta Manca Charlett, Head of Marketing at ELIS UK
Marco Grazzi, Sales & Marketing Manager at Linea Sterile SpA & Board Member of Assosistema.
You can download the agenda here. 
We invite you to sign up for this webinar, via this link. 
We look forward to seeing you there!

Health&Care, In4care en Probis Group slaan handen in elkaar:
Virtueel Zorginnovatiefestival Inspire Health & Care van 2 tot 4 december.
De zorg- en welzijnssector is steeds op zoek naar oplossingen om de zorg nog
beter, kwaliteitsvoller en efficiënter te organiseren. Om zo voor nog meer
hartelijkheid te zorgen. Om zo de zorgverstrekkers in de meest optimale
omstandigheden en met veel goesting hun job te laten uitoefenen.
Visit Inspire HEALTH&CARE for more information.
This event is hosted by Flanders expo in Gent, Belgium.
You might have heard of CHAINGE, a chain of companies committed to encourage change in operating rooms across Europe. The group members are a collective of stakeholders willing to cooperate in the active promotion of the use of high-tech reusable surgical textiles. We started activities outside the European Community and had first successes in the Balkan region. But we realized soon that the setup is insufficient for an European approach.
Our industry needs to approach the market with a common message and the momentum is now. The Covid-19 pandemic has shown us the need for local sustainable solutions and shorter supply chains. As leaders of this industry we need an open discussion to come together as a group and collaborate to increase the perceived value of reusable surgical textiles.
You are personally invited to a video conference call on 1 December from 10:00 to 13:00. The event will be hosted on our website www.chaingegroup.eu. It serves as a platform and a source of inspiration to execute possibly common activities and can be used as a showcase to share do's and don'ts.
The purpose of this meeting is to create space for discussion, streamline our ideas, openly share doubts and concerns to reach one common goal: increase the use of high-tech reusable textiles in operating rooms.
It is in everybody's interest that you participate because your contribution is highly important. There is nothing to lose only to win so we are looking forward to hearing your input. You will receive a phone call in the next days to explain more about our initiatives and your possible participation.
We would appreciate if you register on chaingegroup.eu/login/ and will keep you informed on the exact details of the event.
Stay safe & stay healthy.